As a crafter and DIY girl, I am always on the look out for unique craft and hobby work spaces that will  inspire me, along with decorating and organizing ideas that I can incorporate into my space.
One of my first sources of inspiration is the magazine Where Women Create.  When I first stumbled upon this publication I couldn't believe someone had created a magazine to showcase the creative spaces of women all over the world.  Created by Jo Packham, Where Women Create gives you an insider view of  "the inspiring work spaces of extraordinary women."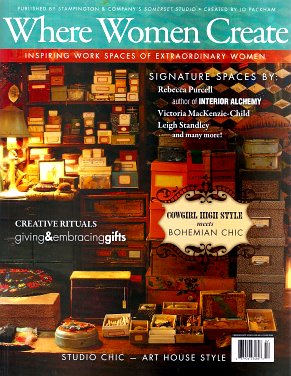 The publication is filled with beautiful images and stories from the artist, about their work and the creative spaces they call home.  Here's a look at some of my favorite creative spaces: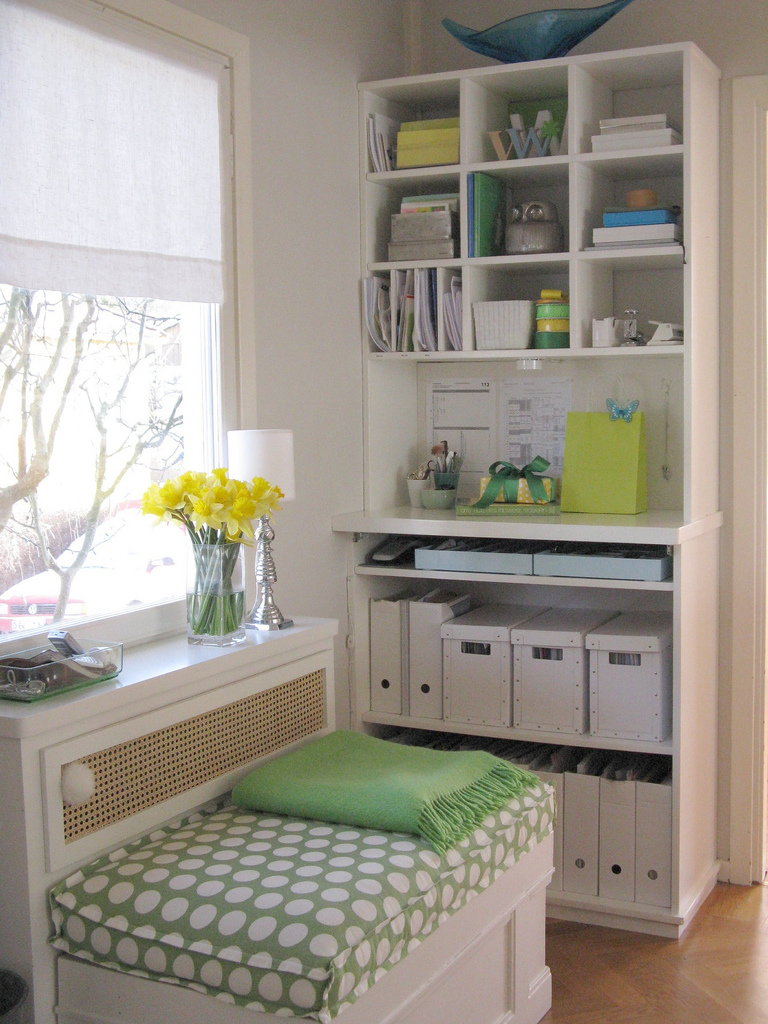 I love this all white space, with pops of color infused to give it some creative personality.
 via home-designing

The oversized letters and bold yellow chair immediately awake my creativity.
 via makebelievemartha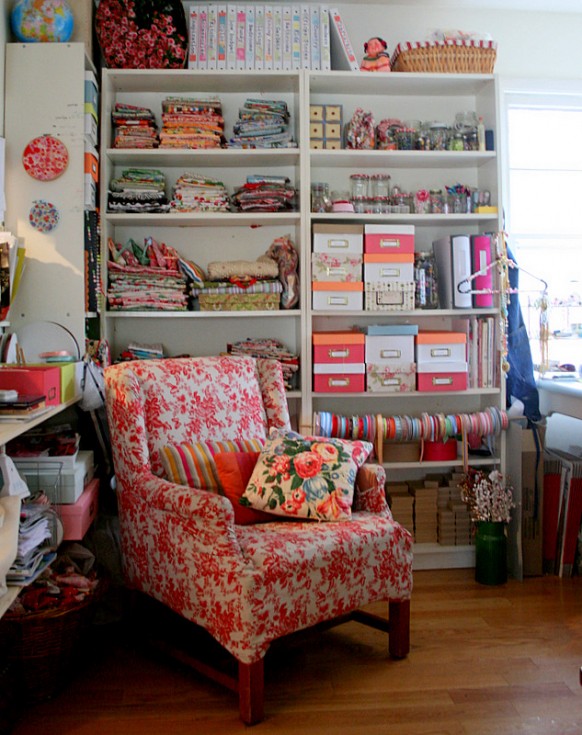 It's always great to incorporate a lounge chair into a creative space, so flipping through magazines, books or fabric stacks is a bit more comforting. 
Nest Pretty Things via home designing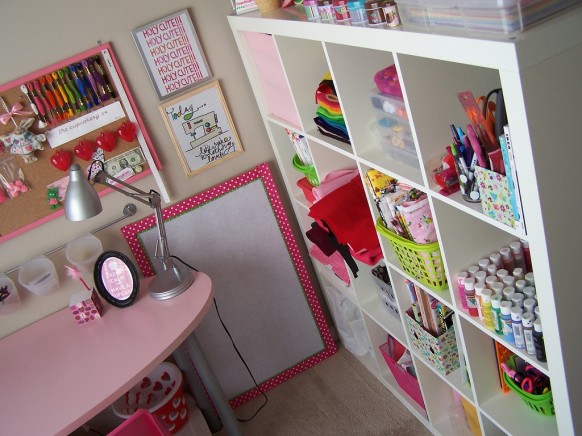 via home-designing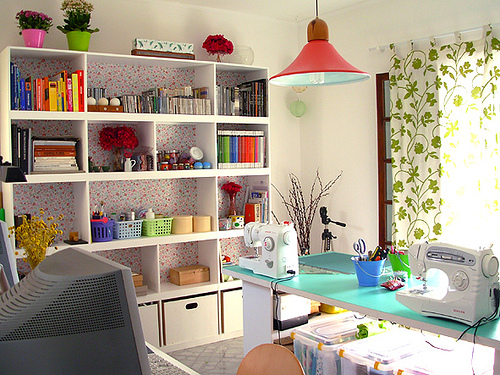 I love that color and pattern were used in unexpected places in this space.  The turquoise desk top is beautiful and the floral print used to frame the back of the bookshelves adds interest without overwhelming the space.  And, that red pendant light is to die for!
 via home-designing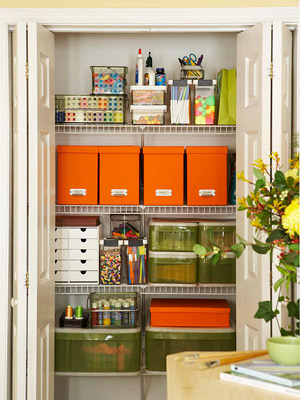 Even a small space can be turned into a beautiful craft area.  Here, a closet was outfitted with lots of great storage containers.  The orange boxes make the fun and the clear bins help to visually enlarge the space.
via BHG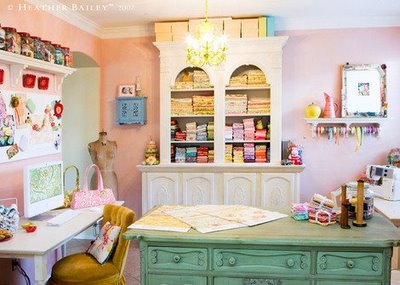 My dream craft space will incorporate an island as a work surface. 
 via Where Women Create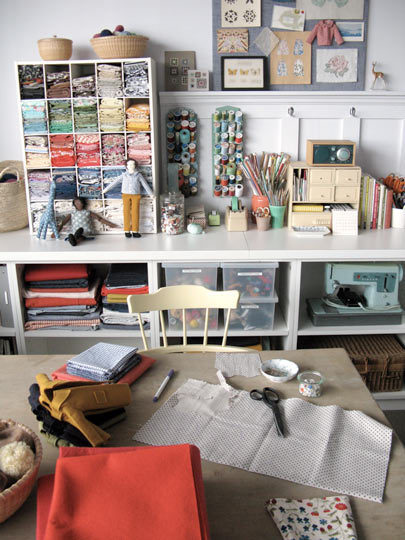 via apartment therapy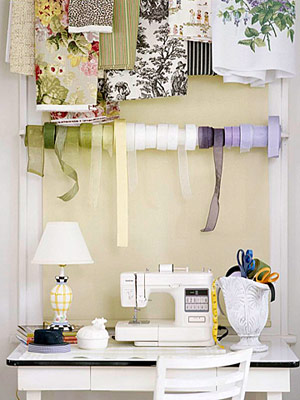 Love the hanging bar for fabrics!
 via BHG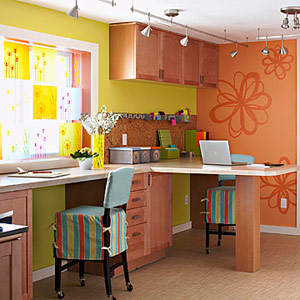 via BHG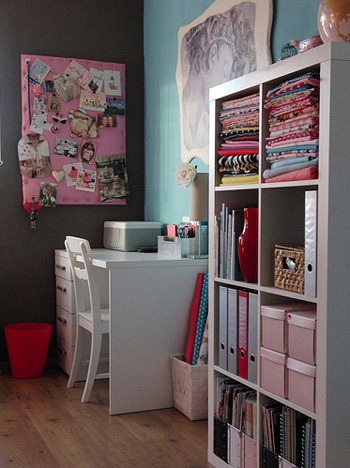 via she likes cute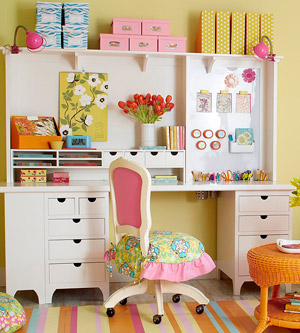 So feminine and pretty.  I adore the ruffle chair cover for the desk chair and the mix of storage boxes and bins.  Left over wallpaper, gift wrap or fabric and great options for covering plain storage pieces.
 via BHG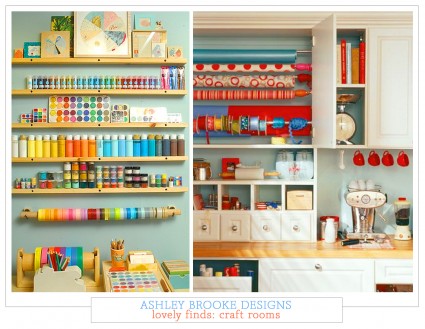 via ashley brooke designs
How fun is this space?  Style mixed with crafts, what's better than that!
 via frundy
If you're looking for clever ways to store some of your crafting supplies, here are a few photos that may help.
Inexpensive tension rods, used for curtains provide a great storage solution for ribbon spools.
 via she likes cute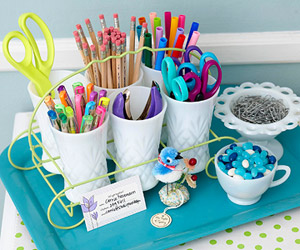 Decorative vanity jars are great for holding pencils, scissors and other craft utensils.  And I love the blue tray, which makes it easy to clear the desk surface when extra space is needed.
 via BHG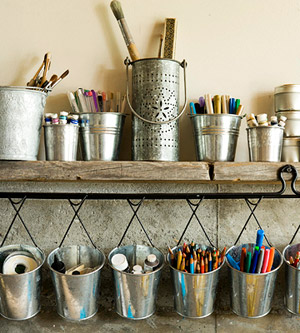 Galvanized buckets hung from wire are stylish and rustic at the same time.
via BHG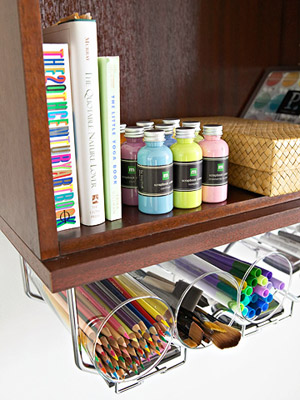 Have you ever thought about using a wine rack as supply storage?  Add glass or plastic cups and you've got a great look.
via BHG
And of course, no post about incredible crafting spaces would be complete without images of the "queen of crafting" work space, Martha Stewart.  Martha uses here attic space as her craft room and incorporated cabinets and work surface all around the perimeter of the room. 
Simple, beautiful and incredibly organized, like everything Martha does!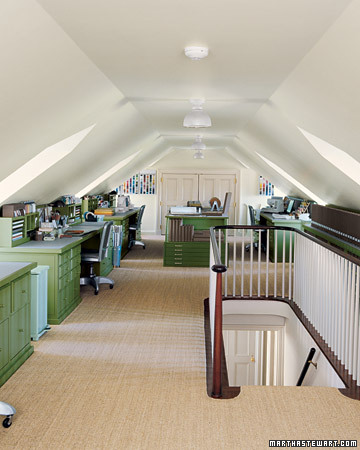 image above and below via martha stewart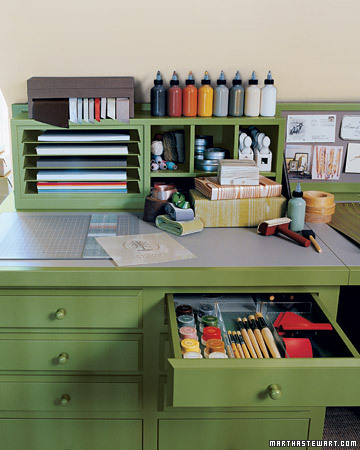 With all this craft and office space inspiration I've looked at lately, I decided to make a few decorative clip boards to dress up my space.
Not only will the clipboards help me stay organized, but I love how the mix of patterns give my space an eclectic vibe.  I'm in the process of making more stylish clipboards, which will be for sell on my Etsy site, which I plan to launch next month.  Stay tuned.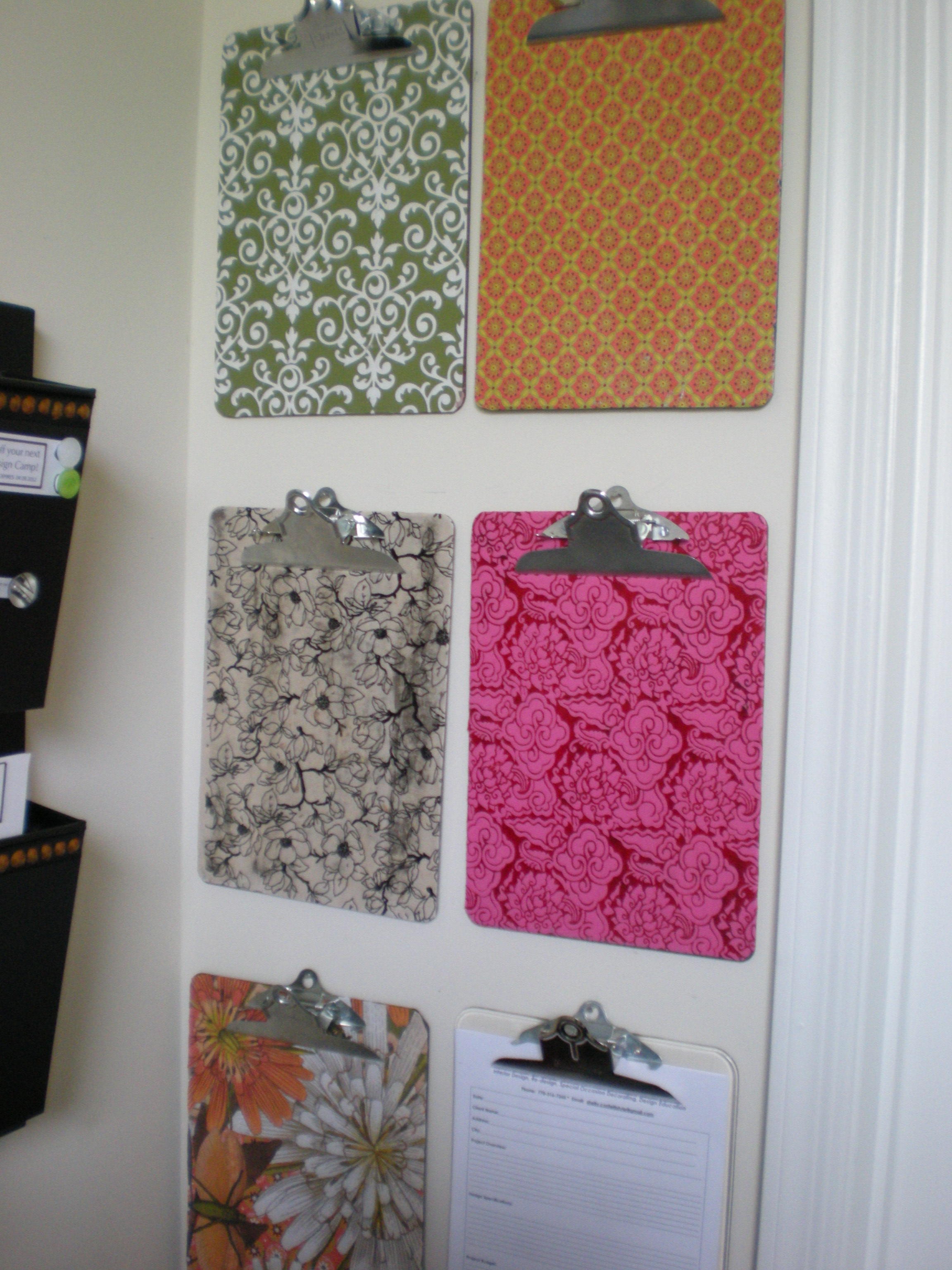 Do you have a craft or hobby room?  And, what do you love to craft?
Come back tomorrow to check out a few crafting projects I've been busy with.
Have a great weekend!