There are less than 100 days until Christmas and I've already started rounding up my gift wrapping supplies.  Etsy has an abundance of incredible items to choose from, but I've selected a few of my favorites to share with you and get you started on your holiday gift wrap plans.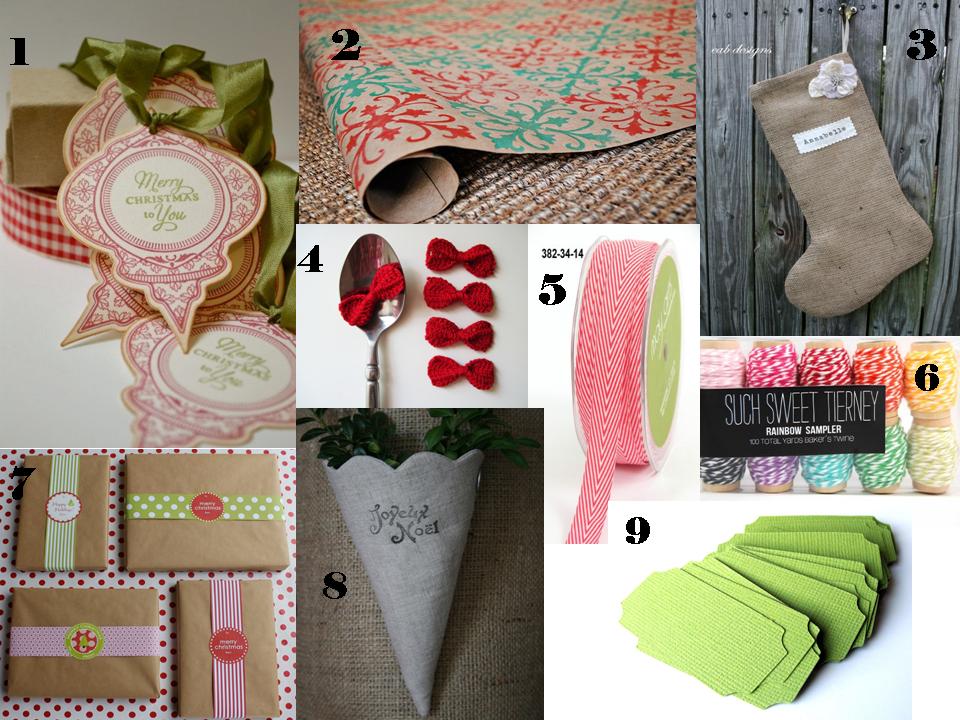 1)  Beautiful
Handmade Gift Tags
from
Nolan3863
.  I love the shape of these tags and the green satin ribbon tie.  Oscarandollie has loads more gift tags to choose from so make sure to hop on over to their shop. 2) 
Handpainted Christmas Paper
is a beautiful damask pattern from
Oscarandollie
. I love how the red and green pop off the natural Kraft color. 3) 
Burlap Christmas Stockings
from
eabdesigns.
  I love using stockings for gift packaging.  Not only is it creative, but it's a little bonus to the gift recipient. 4) How darling as these
C
rocheted Bows
from
Cornflowerbluestudio
?  Pretty cute in my book.  What a great topper for a special gift.  And, if you're looking for a unique Christmas gift, make sure to check out all the other beautiful crocheted items Rachel makes.  5)
Striped Twill Ribbon
from
itsalwaysfabulous!
  This ribbon is the perfect accent for my traditional Christmas color theme. 6) 
Baker's Twine
in any color from
Londontierney
. Perfect for wrapping gifts that will be mailed, food gifts or even to tie
gift tags on.  Londontierney also carries a great assortment of buttons that would make a great gift wrapping adornment.
7) The most beautiful
Paper Ribbon from
Paperjacks.
  I love the traditional red and green options, but there are loads of other colors is you're looking to do something outside the box.  So, so cute! 8) 
Burlap Christmas Cones
from
eabdesigns
are perfect for holding small gifts, chocolates or even a stash of candy canes.  They'd also make great place markers at your holiday dinner. 9)  A classic and simple
Ticket Tag
from
Scrapbits
will make it easy to mark gifts under the tree.  And, if this style tag is not for you, they've got tons of other great styles to choose from!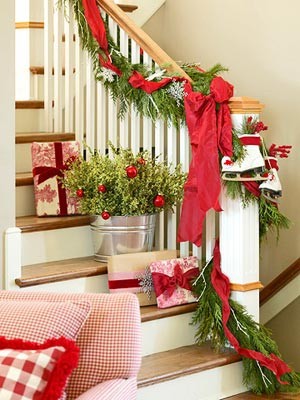 This year, my Christmas decor is going to be traditional with a twist, using Christmas red and hunter green as the foundation and throwing in a bit of apple green, white and kraft paper tan to accent it all.  Given my color theme, you'll be seeing many of the items above under my Christmas tree this year!
Have you begun planning for the holidays?  If so, what's your color theme going to be?