Good Design Takes The Most Mundane of Acts—Such As Entering A Room–And Turns It Into An Experience!
I'm working on a design project for a living room, but because of the layout of the room, I also have to give great consideration to the foyer.  I've been pulling my ideas together and thought it was the perfect time to share a few design tips for decorating foyers.
Whether large or small, the design goals for any foyer should be  to

Define It

, to

Personalize It

and to

Enhance It

! 
Try Paint
Painting your foyer walls is a great way to define the space while at the same time setting the tone for the rest of your home.   I love how the bold orange wall of this foyer plays off the furniture and art that sits within the home.  The color captivates you upon entering and will continue to engage you as you move through the home.  And, those glass doors, while not for everyone and not workable in every home, help to make the foyer space more intimate.  ( I wonder how may times someone has run into that glass??)
Wow them with Wallpaper
If you're looking to define your foyer in a more stylized way, wallpaper might be the right solution.  Wallpaper works great in foyers with a single wall  and can provide the visual backdrop that sets this space apart from the rest of  the home.
I tend to love a larger, bolder print for a foyer but,
The mix of black and white patterns with a pop of red really give this foyer space a distinct personality.
a smaller scale pattern can be just as effective.  When using a patterned wallpaper in your foyer, keep the other elements solid or more toned down and let their shape and design details stand out. 
Add Fun Furniture
Walking into a foyer where a "fun" or "unique" piece of furniture has been placed really gives the vibe of that home an exciting feel. 
A thrift store furniture piece painted a bold, vibrant color is a good option for a foyer,  just as a  piece of furniture with lots of architectural details is.
I see this style of  table in Goodwill all the time, but imagining it is a bright color gives it a whole new appeal.  Or, think about wallpapering the table for an even bolder statement.
 I also love the idea of a beautiful chest to define a foyer space.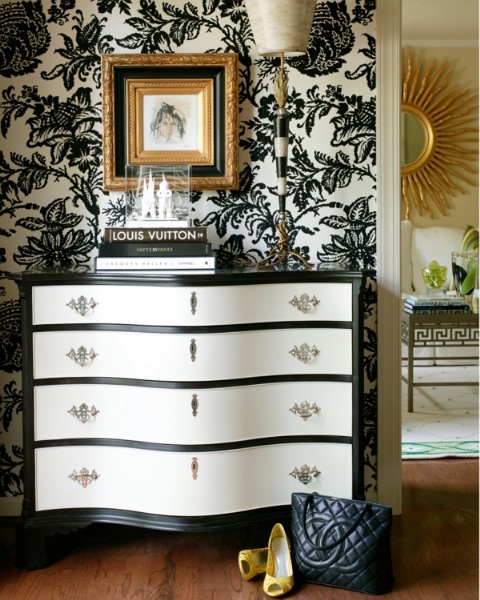 Designer Tobi Fairley had this piece painted for her foyer and set it against a dynamic black and white floral wallpaper pattern.
If space is at a premium in your home, try a skirted console table in your foyer that offers storage underneath while still keeping things stylish.  This is a great option for an open foyer because the boxed in skirt helps to create a visual boundary within the space.
Artful Accessorizing
Just like every other area of your home, accessories can make or break the design impact in your foyer.  Be a bit more adventurous and use an eclectic mix of accessories to make the space really personal.
Instead of table lamps, why not opt for floor lamps flanking a console table.  I love the simple details of these lamps and the understated color palette for this foyer.  Also notice the layering of accessories that make the tabletop visually interesting.
Foyers are a great space to create a gallery wall setup.  A mirror combined with artwork  or a collection of framed photos will have lots of impact.   The stacked art and tall mirror play up the visual height of this foyer while still keeping the space interesting.
Framed family photos are a great way to make your foyer personal and warm.  Keep the frames similar for a stronger impression.
I love how this round mirror serves as the focal point of this foyer arrangement and the layered photos and accessories on the tabletop combine to create a beautiful vignette.
Even in a narrow foyer, a small piece of furniture, a long rug and mirrors hung opposite each other help to make this space look larger and more dynamic.
Whether you define your foyer with paint, wallpaper, furniture or wall decor, the result is to create a welcoming environment that makes your guest feel right at home.  Be bold, be adventurous and turn your foyer into an experience!
all images via Pinterest