What do I love more than interior design, ribbon, vintage jewelry, Bruster's vanilla ice cream, shoes, the color red and fashion….well, beautiful monogrammed paper of course!
Recently I stumbled upon The Covered Porch, an incredible website selling the most adorable personalized stationery, gift tags, monogrammed paper goods, custom party invitations and upcycled pillows.  Jenn, the super talent behind TCP definitely has her eye on stylish design trends and the enormous talent to create lots of beautiful things! 
A couple of weeks ago Jenn and I connected via email and she so graciously designed some custom notepads just for me! 
Aren't they cute?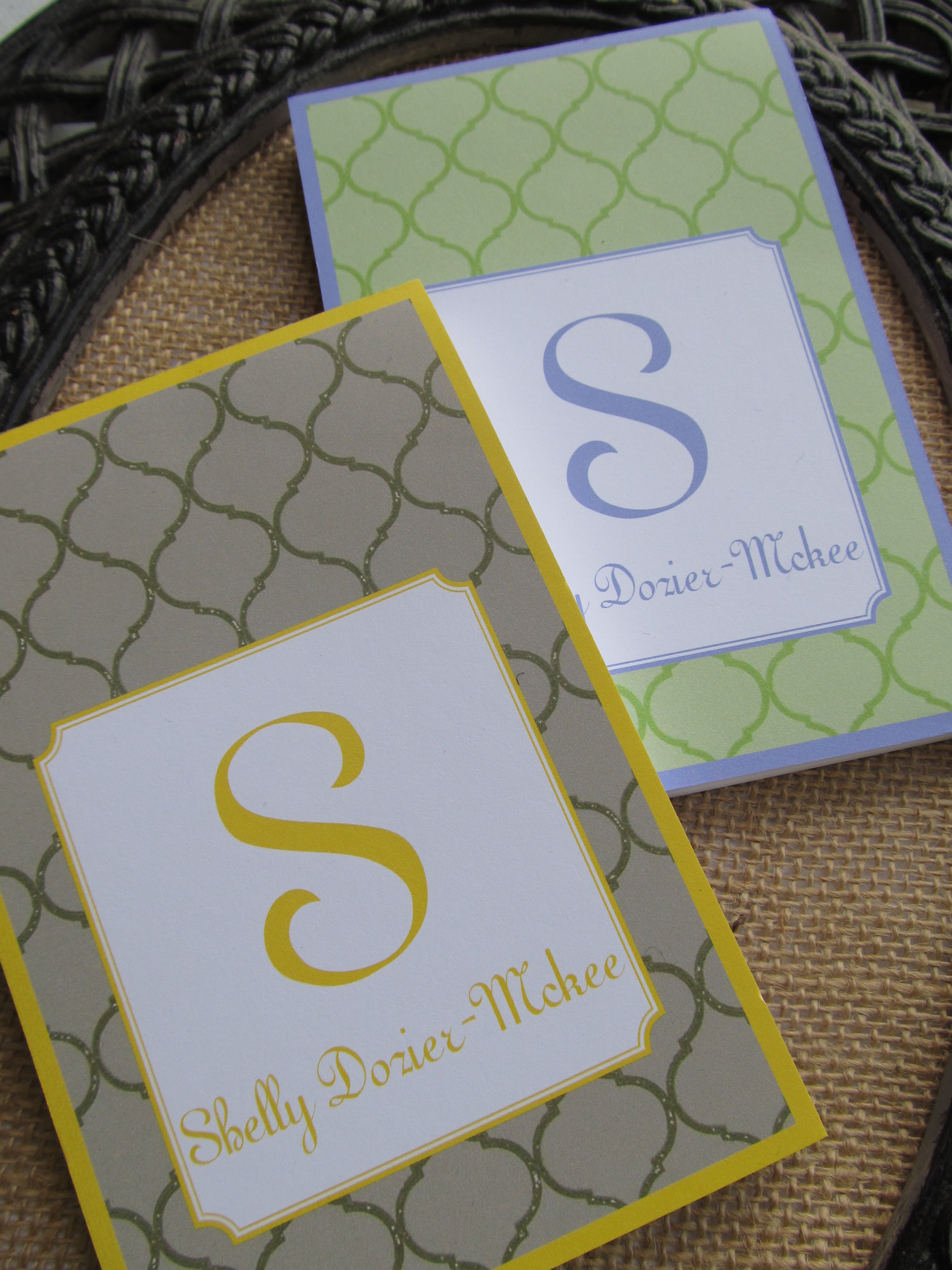 I know you're oohing and awing, just like I was when the notepads arrived in the mail and want to see more of Jenn's items.  
Here's a peek at a few of the other fantastic items available in her shop!
Personalized and monogrammed stationery!
Chic gift tags!  I just might have to have TCP create a custom design for my Etsy shop!
Mini Notebooks.  I love the fabric rosette detail!
Party Invites!
Monogrammed Notecards that are to die for!
TCP can do custom work of all sorts too!   Here's a look at a custom invitation Jenn designed for a birthday party.  Love it!
In addition to these stylish paper products, Jenn also handcrafts pillows, upcycled from old shirts and blouses!
This Americana themed Crab pillow would look great as part of a lake or beach house decor.
How about this cute pillow for a mom-to-be!
And, the fun doesn't just stop with the fabulous items Jenn creates, she also has a BLOG where she shares her design inspiration and finds, her custom graphic work, tutorials and lots more.  Make sure to check it out!
Also, check out the free printable downloads available from TCP! 
And finally, if you have a blog, you definitely want to check out this

free offer

from TCP!
With so many great items, The Covered Porch will definitely be a go-to source for gifts and a little something for me too!
Thanks Jenn for my custom notepads.  I ADORE THEM!